Case Study
Oso Apartments
Awards
AIA Chicago Distinguished Building Award
ALA Design Excellence Award (Silver)
Illinois Real Estate Journal Affordable Housing Project of the Year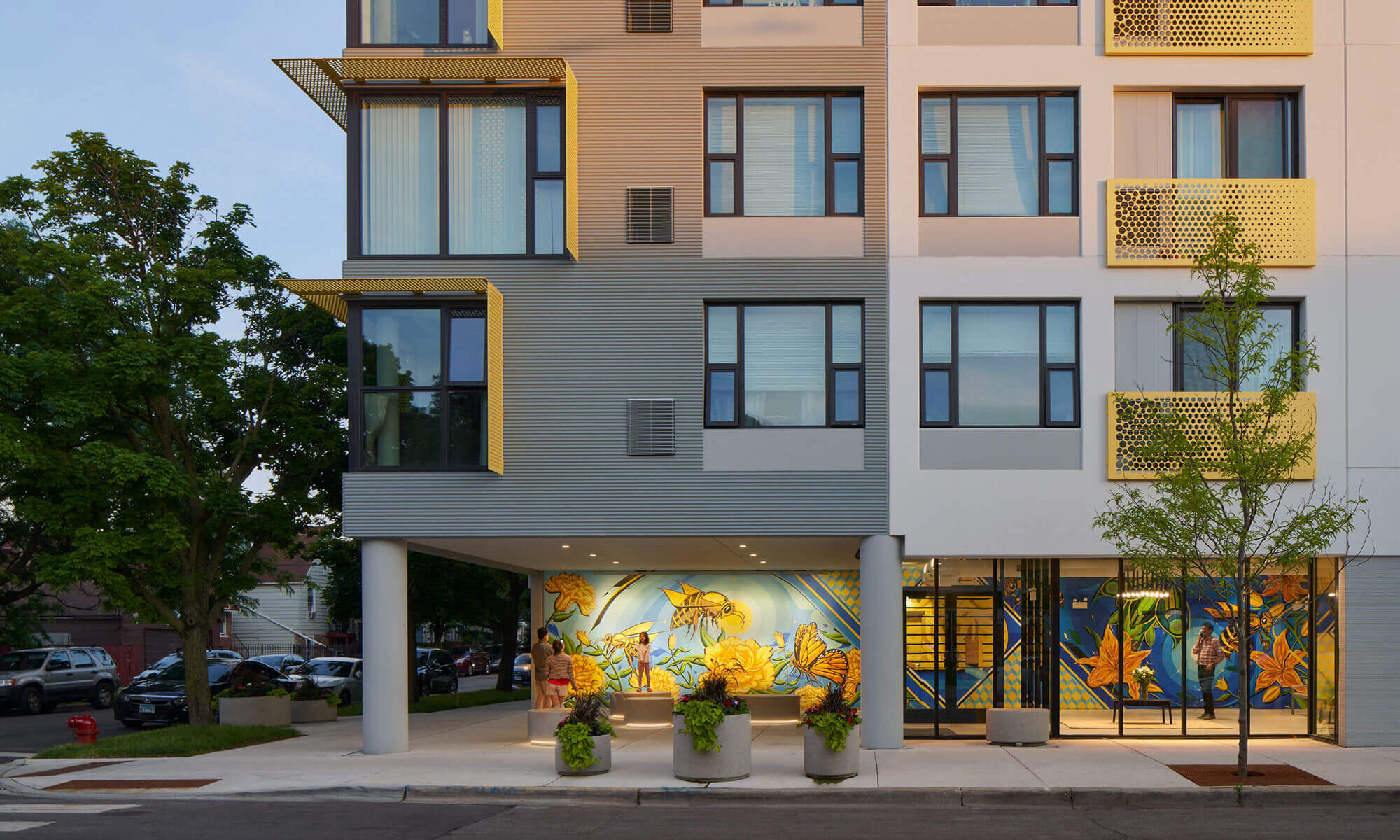 An affordable, inclusive, zero waste housing development
Stakeholders
Evergreen Real Estate Group, LLC
The Albany Park community
Context
Albany Park is one of the most ethnically diverse neighborhoods of Chicago. The site, at 3441 West Montrose Avenue, a main intersection of the Albany Park neighborhood, was a vacant parcel of land for several years prior to development. Working alongside the developer, at the start of the project we identified demographic patterns in aiming to reach housing diversity through a 100% low-income housing program composed of 1 and 2-bedroom family apartments. As the site sits on 5 city lots, it was evident that density, parking, and street edges would play key parts in the site design. Through careful planning, we established a parti diagram for a "C" shaped building that would maximize natural light while maintaining its urban edge conditions. 
Albany Park for decades has served as port-of-entry for a variety of ethnic groups from Asian, Hispanic, and African-descent families and individuals. The ability to establish new affordable apartments in a thriving diverse community became paramount to the programmatic and design themes for the project. From a design perspective, we sought to establish a working material palette that was reflective of the color and textural patterns seen throughout the neighborhood in shades of warm grey and yellow. As a result, the primary palettes for materials became simply textured warm grey concrete and yellow sunshades. We also took cues from the "Chicago window", where a fixed picture window is flanked by two operable windows. The Chicago windows are located in all bedrooms, providing a contextual response to our city's strong heritage in Chicago housing.
Living at Oso has given me the opportunity to save money, stress less about bills and have enough funds to actually spend time enjoying my apartment.
OSO Resident
Design Priorities

An expression of context, community and culture
One of the key design features of the OSO project is the northeast corner. Early in the design process we sought to establish an expressive corner for the building, recognizing the opportunity we had to create a more meaningful connection between the common areas of the building and the public realm. In conversation with the North River Commission, a nonprofit community and economic development corporation, who helped us gather stakeholders—neighbors and local business owners that would help us determine the role of the building in the community—we quickly gravitated towards an idea of establishing a dialogue between the tenant main lobby and a rain covered outdoor area adjacent to it—what we call the "pocket plaza".
This simple move of creating public open space directly adjacent to street serves an urban gesture to welcome the community to the building. To further activate this plaza space, we worked closely with local neighborhood organizations, including the local alderman, to establish a mural wall to accompany the pocket plaza. Through a neighborhood artist selection process, Miguel Del Real was chosen as the key artist to establish a new visual landmark for the community through a prominent corner mural. Through our research in community-driven design we have found that by establishing visible expressive cultural symbols as part of the built environment, community can build a stronger sense of identity and belonging. Therefore, it became a natural fit to embed a new mural at the junction between public and private zones of the most public corner of the building. Del Real interviewed neighborhood youth to reach themes of family connectivity and resilience as expressed in the completed indoor/outdoor mural.

Maximizing resources through semi-modularity

When we started the project, we were faced with a tight budget—no small challenge. At the early stages we considered a variety of structural systems that would allow us to achieve a 48 unit, 5-story building on a tight urban Chicago site. After assessing a variety of systems, block walls, steel and wood framing—pre-cast construction and other modular systems became the recipe to achieve design innovation through selective prefabricated, integrated systems. This "semi-modularity" allowed us to meet the developer's 12-month construction schedule as most building elements would arrive on-site ready to install in a quicker fashion than steel or masonry block wall construction. As a result, we were able to save greatly on overall cost and time—roughly 10% of the original budget, through the identified systems we designed with. 

Building performance and sustainability

The Oso project aims to serve as a catalyst for semi-modular climate-based design for the affordable housing market. Our design team established a set of perimeter systems that could be used interchangeably based on sun exposure and function. We worked closely with our mechanical engineer to design an integrated yellow aluminum sunshade system to better manage direct sun exposure for key exposures. We established optimum open-air percentages for the integrated balconies and mechanical intake louvers. Using a gradient perforation pattern for the balcony grilles, we were able to visually conceal both fresh air and exhaust louvers at the unit VTAC heating/cooling banks, while establishing a visually appealing balcony edge for tenants to enjoy. Furthermore, the VTAC system is an all-electrical system, helping to reach closer to carbon neutrality and save operational costs.
Living in an apartment double the size, at half the cost, allows for easier financial choices to be made and opens the door for a balance between living expenses and the perks of life.
Oso Resident
Results
We worked closely with major systems providers to establish modular systems throughout—like a lego set. As all material arrived on site (pre-cast insulated concrete, aluminum sunshades, balconies, exterior glazing), saving months of construction time, we created zero material waste in the process of erecting the entire 45,000SF structure—all systems together helping to reduce landfill and waste demand throughout the project.
Tenant Voices
In Chicago, there is a large affordable housing gap, with many city residents paying over 30% of their income on housing, resulting in cost burden.  Residents emphasized how lowering their housing costs impacts their lifestyle choices and decisions. "I lived in the Belmont-Cragin area for over 8 years and always knew I would need a bigger apartment once I started a family," shared an Oso resident. "It wasn't until my rent was raised, and I was spending more time at work than in my home that I knew it was time to relocate. I wanted to be somewhere safe, somewhere I could get to places easily, but also somewhere my child and I would be around a welcoming community."
Quality affordable housing is essential and transformative. As one OSO resident shared, living in an apartment "double the size, at half the cost, allows for easier financial choices to be made and opens the door for a balance between living expenses and the perks of life." The elevation of life, the feelings of hope, love, and optimism experienced as a new resident are immense. Affordable developments ensure human dignity and ease financial stress for residents.